»tools you bake« is the name of the six-piece baking tin series made of aluminium, produced in the metalspinning process during rotation in a lathe. Sheet metal is shaped around wooden moulds to create hollow bodies. Innumerable wooden moulds have accumulated through four generations in the stockrooms of the nearly 100 years old factory Hugo Bräuer. Their original function, to be used in the making of hubcaps, lids or shades, has long been forgotten.
...back
|
more ...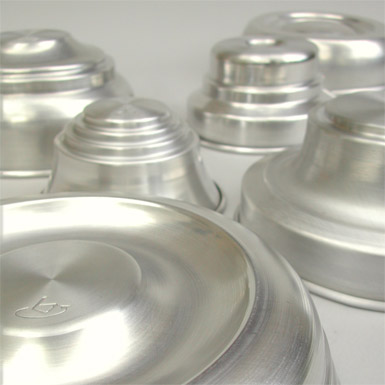 The designers blew the dust from this valuable source and transformed the shapes into hand-stirred delicacies. The baking tins adopted the names of former clients (Collatz, Bessy, Wiesner...), they are the first company own products and act as a reference to the craft and history of Hugo Bräuer Metallwaren who earlier worked as a pure service provider. The cakes, which are baked in the tins, describe in their contours a piece of design history from the beginning of industrialisation until the present.
...back
|
more ...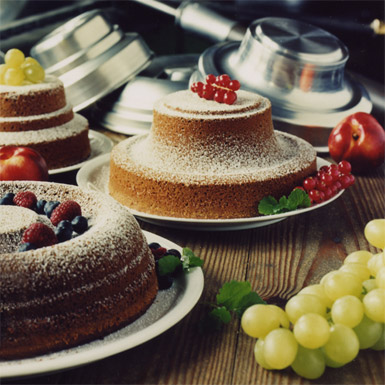 »The tins fit perfectly into the concept of pastry making which is dramatic yet cost effective – you don't need the extra labor usually required to make special shapes«, former executive pastry chef Bill McCarrick explains. »I can easily make my signature gin-and-tonic opera cake and wonderful green-tea sponge cake with sake-marinated cherries«. Harrods in London recently ordered »Bessy«, along with a custom individual-size model.
...back
|
more ...